What's New in the OneStream Platform and MarketPlace?
Well 2020 was a year we all won't soon forget. While it was a year of disruption for many, the OneStream engineering teams were busy delivering a steady stream of innovations to the OneStream Platform and MarketPlace solutions. Here's a quick recap of what new capabilities were delivered in 2020 and how they are helping our customers conquer new challenges and lead their organizations at the speed of business.
Delivering Continuous Innovation
A major change that was made to our product strategy in 2020 was to shift to shorter, quarterly release cycles as opposed to the longer release cycles we had in the past. The main goal here is to deliver new innovations and capabilities more rapidly to our customers and partners around the world.
Our product strategy revolves around three customer-focused themes:
Improving Ease of Use
Advanced Design & Analytics
Performance, Scalability, and Core Capabilities
The detailed features and capabilities we deliver under each of these themes is driven by the valuable input we get from existing customers, our support and services teams, partners and our monitoring of evolving market requirements.
What's New in the OneStream Platform?
In 2020 we delivered four OneStream Platform releases, with the most recent being OneStream 6.3, which was delivered in December. Under the theme of Improving Ease of Use, we have been investing in and adding many new capabilities to our Excel Add-In and Spreadsheet feature within the OneStream App for Windows. This includes the following capabilities: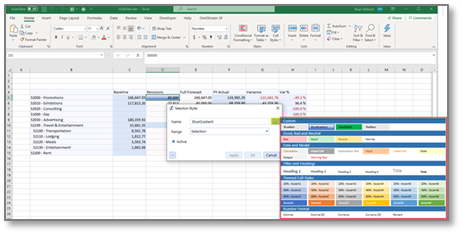 Use native Excel styles to retain formatting in Cube Views
Dynamically Highlight Evaluated Cells and Retain Formulas in Cube Views
Retain Basic Formatting, and Conditional Formatting in Excel for Cube Views
Integrate the Excel color palette for conditional formatting using the Excel Add-In.
These enhancements will provide OneStream users who love Excel more powerful reporting and analysis capabilities through this familiar interface. Over the last few releases, we have also made refinements to the OneStream Dashboards, allowing users to hide or show borders around objects to gain more screen real estate.
Under the theme of Advanced Design and Analytics, we added several new capabilities that can help customers address more advanced planning and analysis requirements. This includes the following capabilities: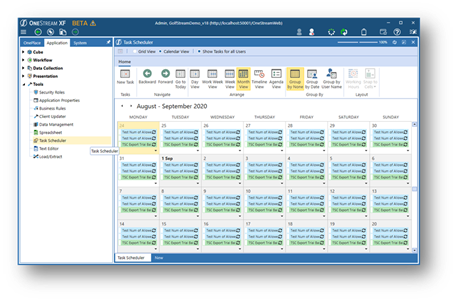 Data Inspector for Advanced Analytics – users can quickly visualize or export all data from underlying dashboards for additional analysis and collaboration.
Analytic Blend Star Schema Hierarchies – offers users out-of-the-box drill-down capabilities for Analytic Blend data throughout OneStream.
Task Scheduler for Data Management – Enables administrators to centrally manage and schedule data management jobs.
Under the theme of Performance and Scalability, we have continued to enable faster performance on large data sets by allowing users to manage paging controls on Cube Views and by enabling Sparse Data Suppression on Excel Quick Views. This feature increases performance for ad-hoc analysis on large data sets within Excel Quick Views.
What's New in the MarketPlace?
For the OneStream MarketPlace of over 50 downloadable solution, we delivered several new solutions as well as enhancements to many existing solutions.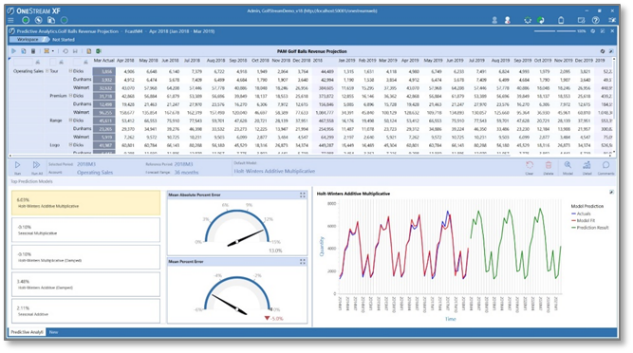 Early in 2020 we delivered a new Predictive Analytics 123 solution. This solution enables finance leaders to create predictive forecasts for financial and operational planning, share these insights and collaborate with their business partners on critical business decisions.
– Predictive Analytics 123 adds predictive modeling with the ability to quickly seed new forecasts and create visualizations with easy, self-service capabilities. This enables finance teams to validate corporate and operational plans, reduce forecast bias and help drive important dialogue to support quick and effective decision making.
We also delivered a new Transaction Matching solution. This solution allows customers to collect and match large volumes of transactions from multiple sources to quickly identify and resolve differences to accurately finalize period-end balances much sooner than with third-party tools or spreadsheets.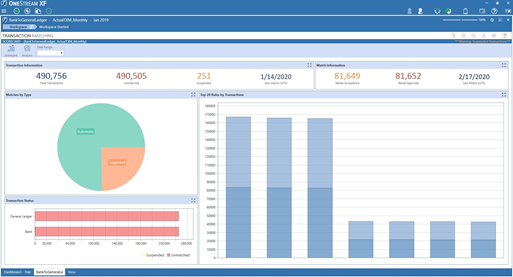 As a great complement to our popular Account Reconciliations solution, Transaction Matching allows customers to match transactional-level information from multiple sources utilizing an easily configurable, rules-driven approach that identifies and resolves differences in transaction data. This replaces spreadsheets and manual processes that prolong period-end account reconciliations and can delay the financial close.
In 2020 we also delivered many enhancements to existing MarketPlace solutions, including Account Reconciliations, Tax Provision, Specialty Planning, and Compliance Solutions.
More Innovation to Come in 2021
While the OneStream Platform and MarketPlace engineering teams delivered a lot of new capabilities in 2020, our job is never complete. With over 600 customers now we are getting a steady volume of enhancement requests and are already working on the next set of innovations.
On the OneStream Platform, we'll continue to drive improved ease of use through the Excel Add-In and Spreadsheet feature and will be improving the mobile user experience with new, rich end-user features and capabilities.
OneStream is also planning to deliver a Machine Learning framework for organizations with and without data science resources. This will include the ML 123 solution we have demonstrated at recent Splash user conferences, that aligns data scientists and their work into core Finance processes. And we are also planning to deliver what we are calling our "Sensible ML" solution which walks users through a step-by-step process through each part of the ML model building and deployment process.
To learn more, check out the release notes for OneStream 6.3 and prior releases on the MarketPlace and please register for our OneStreamTM Splash user conference, which is scheduled for August 2021 in Orlando, Florida.
Happy New Year!
Get a Live Demo of OneStream
Get a Live Demo of OneStream
Hundreds of organizations have made the leap from spreadsheets and legacy CPM applications to OneStream and never looked back. Join the revolution!
Request a Demo
Oops, looks like we couldn't find what you were looking for. Please adjust your filters