The New Reality: Planning, Analytics and Performance Management in the 2020s
2020 has been a year like no other in modern history. Starting off with great expectations for the new decade, by March the entire world was disrupted by the COVID-19 causing every organization to scrap their 2020 budgets and revisit their plans and forecasts. While the pandemic wanes and the global economy slowly recovers, this crisis is a wake-up call for most organizations. It reminded us that having agile planning and performance management processes is essential to surviving and thriving in a more volatile global economy.
This was the focus of a recent OneStream Software webinar, moderated by yours truly, featuring industry analyst Howard Dresner, President and Founder of Dresner Advisory Services. During the webinar Mr. Dresner reviewed his firm's latest survey results on how COVID-19 is impacting enterprise performance management (EPM) and Analytics projects and budgets and how EPM solutions are helping organizations navigate the disruption.
The webinar also featured Scott Stern, Director of Product Marketing at OneStream, highlighting the key capabilities of OneStream's platform for FP&A and how several organizations leveraged the platform to forecast and model their way through the COVID-19 crisis.
Here's a link to the replay of the webinar, and below is a summary of the key points raised during the discussion.
The Latest Trends Revealed by The Wisdom of Crowds
The webinar kicked off with a review of the results of the Dresner Advisory Wisdom of Crowds® Enterprise Performance Management (EPM) Market Study, and related COVID-19 research identifying key trends in planning, analytics and performance management.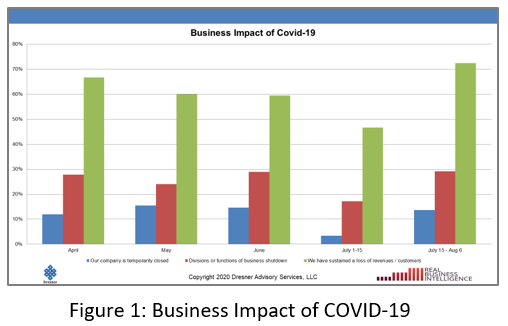 Starting off with a review of the impacts of COVID-19 on organizations, the survey results showed the initial impact (see figure 1) of the pandemic on closures, divisional shutdowns and loss of revenue in the April – June timeframe. The survey results did show business conditions improving slightly in early July, only to worsen in the 2nd half of July and early August as the outbreak began to spike in the US in early Q3.
The business impact of the spike could be seen in staffing and hiring activity in late July, and also in IT projects being delayed as a result of the spike in outbreaks. Mr. Dresner highlighted this trend as a wake-up call for organizations to step back and assess how well their organizations are prepared to deal with disruptions like this one, and to be better prepared in the future. His research also showed that organizations that had already implemented EPM software were less impacted by the pandemic than those that didn't have EPM software in place.
Mr. Dresner then reviewed EPM software adoption trends – with EPM adoption increasing slightly in 2020 vs. 2019, especially in larger enterprises, and at higher levels in North America and Europe vs. Asia Pacific and Latin America. Where do organizations prefer to get their EPM solutions? Mr. Dresner's research (see figure 2) indicates that the majority of organizations (over 70%) prefer to source their EPM solutions from specialist vendors or all potential vendors, while less than 10% of respondents prefer to source their EPM solutions from their ERP vendor.
With regards to EPM Planning priorities, while annual financial budgets is still the top use case, cash flow forecasting was #2, followed by headcount/salary planning at #3. Rolling forecasts were in the mix at #7, with over 60% of respondents indicating their organizations use them, and another 22% planning to use them in the future.
Dresner Advisory Services has been monitoring interest in and deployment of AI and Machine Learning technologies over time. This latest survey data shows very little change in interest in these technologies, with roughly a third expecting significant value to their planning processes. Roughly 40% of respondents expect their EPM vendor to provide AI/ML capabilities within their solutions, while just over 20% expect to build it themselves using data scientists and third-party ML tools.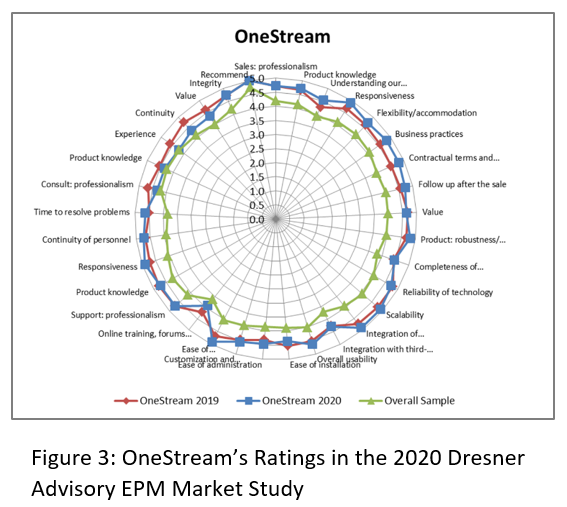 Lastly, Mr. Dresner reviewed the EPM vendor ratings which are based 100% on customer surveys. In the 2020 EPM Market Survey OneStream was best in class for 15 of 33 measures and maintained a perfect recommend score (see figure 3). Based on this, OneStream is an Overall Leader in both the Customer Experience and Vendor Credibility models.
What's New in Planning and Analytics at OneStream?
My colleague Scott Stern, Director of Product Marketing at OneStream, joined the next segment of the webinar to talk about what we are seeing in the market and what OneStream is doing to support FP&A teams with our platform. The feedback we are hearing in the market aligns well with the trends presented by Mr. Dresner. With increasing market volatility, annual budgets are no longer sufficient. Most organizations are adopting rolling forecasts to increase business agility while seeking to better align Finance and Operations through "unified business planning."
According to Mr. Stern, a new inflection point is now arising for Finance leaders. While producing the book of record financial results and forward-looking plans and forecasts is still important, there's an increasing need to know what's happening in the business on a weekly, and even daily basis. This data is required so Finance leaders can proactively make decisions that impact future results.
We call this collection and integration of financial and operational data for analysis "financial signaling".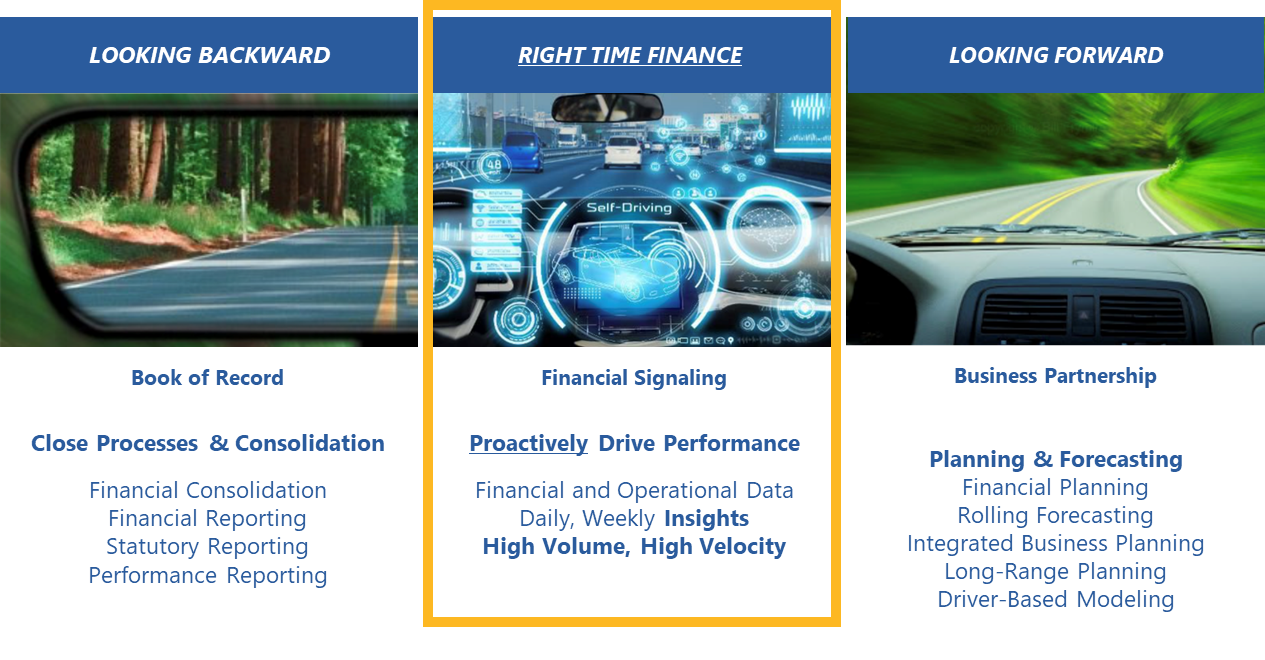 This need for Finance executives to "lead at speed" became especially crucial during the early days of the COVID-19 pandemic – and Mr. Stern cited several examples of companies who extended their use of the OneStream platform to perform scenario analysis, weekly cash flow forecasts as well as daily sales and working capital analysis.
Mr. Stern then reviewed key OneStream capabilities to support unified business planning, including:
To address emerging customer interest in leveraging Machine Learning in their FP&A processes, OneStream is developing a framework that will enable data scientists to integrate the OneStream platform into their ML projects, as well as a built-in, wizard-based ML solution for organizations without data resources.
Learn More
As was highlighted by Mr. Dresner during the webinar, the COVID-19 pandemic was a wake-up call for many organizations. The message is that in order to survive and thrive through market disruptions they need to embrace digital transformation and ensure their organizations have modern planning, analytics and performance management solutions and processes in place.
To learn more, watch and listen to the replay of the webinar, and feel free to contact OneStream if your organization is looking for a modern, unified EPM platform that can increase business agility and help Finance lead at speed.
Get a Live Demo of OneStream
Get a Live Demo of OneStream
Hundreds of organizations have made the leap from spreadsheets and legacy CPM applications to OneStream and never looked back. Join the revolution!
Request a Demo
Oops, looks like we couldn't find what you were looking for. Please adjust your filters