CIS Consulting | OneStream Partner
About CIS Consulting
CIS Consulting is a specialist CPM & Data Analytics consultancy based in Barcelona, Madrid and Mexico City. Having successfully implemented hundreds of projects for financial planning & analysis, financial close and consolidation, and business intelligence in the last 20+ years, our certified team of specialists possess the experience and technical know-how to make your project a success. We work with Finance, IT and Data teams, from large enterprises to SMEs, and have an established approach to project management that guarantees successful implementation.
We partnered with OneStream in 2018 and were in charge of implementing the first OneStream project in Spain. Our consultants are certified by international and local associations like the PMI, the Controller Institute, the Financial Studies Centre in Spain (CEF) and Cloud Infrastructure (Google). We speak English, Spanish, Portuguese and French, which allows for effective communication within multicultural teams wherever a project is implemented.
Our mission is to pair our clients' financial analytics requirements with the best technological solution for their organization. We prioritize training and knowledge sharing to ensure that our clients can attain the desired results and become self-sufficient in the process, and we strive for 100% customer satisfaction.
Partner Level:
Silver
Geography:
Our team and offices are located in Spain and Mexico but we deliver projects worldwide.
Contact Number:
+34 625 914 752
Contact Email:
[email protected]
Website Address:
www.cisconsulting.io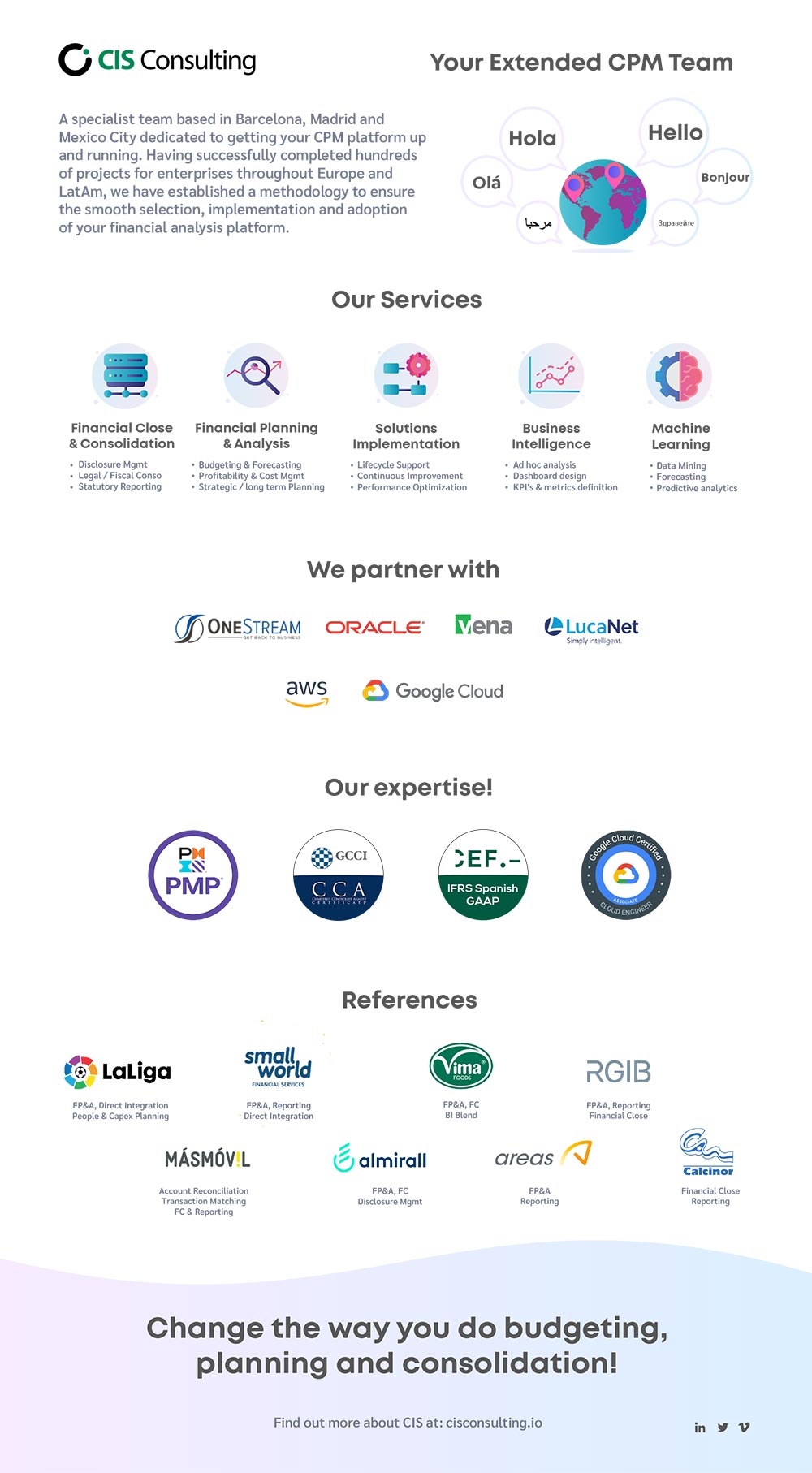 Get Started With a Personal Demo
Get Started With a Personal Demo
Hundreds of organizations have made the leap from spreadsheets and legacy CPM applications to OneStream and never looked back. Join the revolution!
Request a Demo
Video
Oops, looks like we couldn't find what you were looking for. Please adjust your filters