Which to Upgrade First – Your GL/ERP or CPM System?
One question that often comes up as enterprises are considering modernizing their financial systems is what should they upgrade first – their GL/ERP or corporate performance management (CPM) software?   This reminds me of the old chicken and the egg question.  The answer is often "it depends."
But according to recent research published by Gartner1 , "In the current environment (as impacted by COVID-19), organizations are more likely to opt for projects with significantly less change management risk <that> offer a quick time-to-value approach without the significant change management requirements associated with migrating to the latest generation cloud core financial management suites."
Here's a quick summary of the roles GL/ERP systems play vs. CPM solutions and some considerations to keep in mind as you plan your organization's upgrade strategy.
GL/ERPs Run the Business
– ERP systems focus on helping organizations run operational processes. The term first came into use in the 1990's to extend the capabilities of manufacturing resource planning (MRP/MRP II) and to reflect the evolution of application integration beyond just manufacturing.
Today, ERP is generally referred to as a category of business software — and typically a suite of integrated applications—that an organization uses to collect, store, manage and interpret data from these many business activities. Examples of the business activities ERP systems help automate and track include:
Manufacturing
Supply Chain Management
Project Management
Order Processing
Finance and Accounting – e.g., General Ledger, Fixed Assets, Accounts Payable, Accounts Receivable, Cash Management
The objective of ERP systems is to automate and integrate these processes across the enterprise to drive accuracy and efficiency in day to day transaction processing and operations.
CPM Manages the Business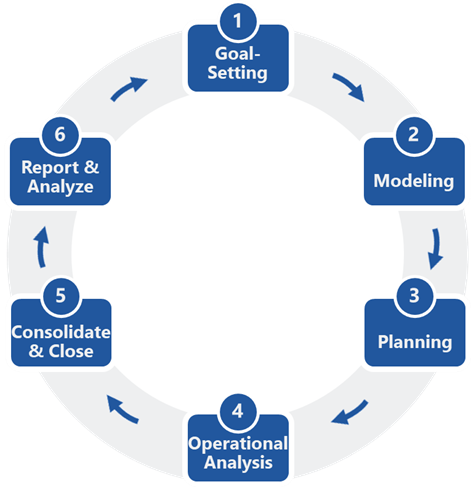 CPM (or EPM systems) focus on helping organizations improve management processes. CPM software systems help organizations achieve their financial objectives by linking corporate strategy to plans and execution.  It includes the process of collecting and integrating data from many systems across the enterprise (e.g., ERP, CRM, HCM) to plan, monitor and manage performance. Examples of the key processes EPM/CPM systems help automate include:
From a software standpoint, a small enterprise may start out using Microsoft Excel for budgeting.  Then as the enterprise grows it may implement a basic CPM software solution for budgeting, planning, and management reporting.  Then as the organization grows and expands in complexity, with multiple subsidiaries transacting with each other, international operations with multiple currencies, joint ventures and partial ownership interests – they may upgrade to an enterprise-class CPM software solution with more robust financial consolidation, reporting, planning, forecasting and analysis capabilities.
Which to Upgrade First – ERP or CPM?
If an enterprise already has both ERP and CPM software solutions in place, and if their ERP system is no longer meeting their needs and is hindering operations, there may be a good reason to focus on the ERP implementation first, then upgrade the CPM software after the ERP upgrade is complete.
However, in a larger enterprise, an ERP upgrade or re-implementation can be a major project that takes several years, costs millions, and can be very disruptive to the business.  One strategy that organizations will often use to minimize the disruption is to upgrade or implement a new CPM solution before the ERP upgrade project.
Why CPM first? Here are several reasons upgrading your CPM system first makes sense:
Faster Time to Value – a well-scoped CPM project can go from start to go-live in 6 months or less. If the focus is on financial close and consolidation, or budgeting/planning/forecasting system design, configuration, testing and go-live can be accomplished quickly and at a much lower cost than an ERP upgrade.
More Flexibility – in general, CPM applications provide more flexibility in reporting and analysis than ERP systems. CPM applications can support multiple, alternate hierarchies or rollup structures for reporting and analyzing results from different points of view – e.g. management structure, legal entity structure, tax structure, and others. And CPM applications also provide the ability to quickly change reporting hierarchies to quickly see the impact of reorganizations or acquisitions on financial results – something ERP systems are not designed to support.
Bridge to the Future – In this case, the new CPM solution can serve as a "bridge to the future", initially integrating data from the old ERP system, or multiple ERP, HCM, CRM and other systems.  Then as the new ERP system is being implemented and older systems are being phased out – the CPM solution can integrate data from old and new systems – providing a consistent and continuous platform for financial consolidation, external reporting, planning, budgeting and forecasting, management reporting and analysis.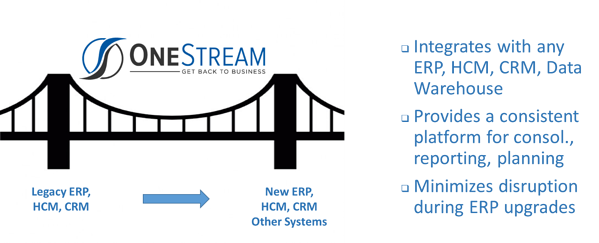 This "bridging" approach not only minimizes disruption during the ERP transition, but it also provides a flexible environment for supporting future changes – such as integrating acquired companies, new systems, organizational changes, or addressing new regulatory and management reporting requirements.
Going Live in 3 Months with OneStream
Prince Corporation
had been growing rapidly. Over the last 13 years, they have had 18 acquisitions and today are managing over 25 entities, with more than half outside of North America. There are multiple ERP systems in use across the enterprise, including IFS, Ross and SAP. And to make matters worse — they were relying on Excel® to reconcile, translate, consolidate and report financial information.

"We ended up with several ERP systems due to acquisitions, and we didn't have any CPM tools in place — no BI or automation at the consolidation level," said the Vice President, Controller at Prince. There was a general lack of controls, versioning and audit trails, and using multiple workbooks made it difficult to integrate newly acquired companies into the process.After evaluating several alternatives, Prince selected OneStream Software and went live with financial consolidation and reporting in just three months – and has since continued to add additional capabilities over time. "We were quickly able to source our financial statements, including the calculation of adjusted EBITDA, from OneStream. We next added the budget, and we began generating the majority of our financial reporting from the system."
Learn More
Prince Corporation is just one example of the speed of implementation and value a unified CPM platform can provide in integrating data from multiple ERP systems to create a flexible platform for consolidation, reporting, planning and analysis. To learn more, visit the customer testimonials on our web site and contact OneStream if you thinking about an ERP upgrade but need a bridge to the future that can help minimize the disruption to you organization.
1 3 Ways to Flatten the Finance Record-to-Report Curve in Times of Crisis and Opportunity, Gartner, 17 July 2020.
Get a Live Demo of OneStream
Get a Live Demo of OneStream
Hundreds of organizations have made the leap from spreadsheets and legacy CPM applications to OneStream and never looked back. Join the revolution!
Request a Demo
Oops, looks like we couldn't find what you were looking for. Please adjust your filters