Prince Corporation Creates the Perfect CPM Formula with OneStream
When engaging in M&A activity, it is imperative that organizations are able to easily adapt to changing business conditions. However, it is common for the office of finance to get derailed while integrating the financial systems and operational process of a newly acquired business. And this is a challenge that was all too familiar for Prince Corporation.
Prince has grown at an exponential rate, with 18 acquisitions over the last 13 years – and the company shows no signs of slowing down. Because of this high amount of acquisitions, Prince operates with multiple ERP systems, including IFS, Ross, SAP and more. Yet the company is proactively and effectively managing financial consolidation, planning, budgeting and forecasting processes across 25 entities in six continents. How? By ditching their spreadsheets for a modern, unified corporate performance management (CPM) system. Read on to hear their story.
Struggling with Spreadsheets
Headquartered in Houston, TX, Prince  specializes in developing, manufacturing and marketing performance-critical chemical additives for niche applications utilized in the construction, electronics, consumer products, automotive, and industrial markets. A global enterprise, Prince has 1,300 employees with over $600M in annual revenue, yet was relying on outdated Excel® processes to reconcile, translate, consolidate and report financial information.
With Excel, Prince experienced a general lack of controls, versioning and audit trails, and using multiple workbooks made it difficult to integrate newly acquired companies into the process. Currency translation was challenging, and there were several issues with data quality and timeliness. They were ready to upgrade to a proven CPM solution. After evaluating Oracle, OneStream and Host Analytics, the selection process was surprisingly easy. As an open platform, OneStream was more cost-effective and provided greater flexibility to configure to meet Prince's changing needs – it was a no-brainer! And just like that, Prince went live with OneStream XF for financial consolidation and reporting in just three months, followed by planning, budgeting and forecasting.
One Source of the Truth
OneStream easily integrates with Prince's many ERP systems to bring in sales, customer and product data into a single, unified solution – no more navigating through complex spreadsheets! With a specialty profitability cube created, Prince is also performing monthly price vs. volume variance reporting which gives finance executives visibility into customer and product detail across each entity. Prince also built an exchange rate interface in OneStream that is automatically updated daily, plus automated cash flow calculations including the calculation of adjusted EBITDA.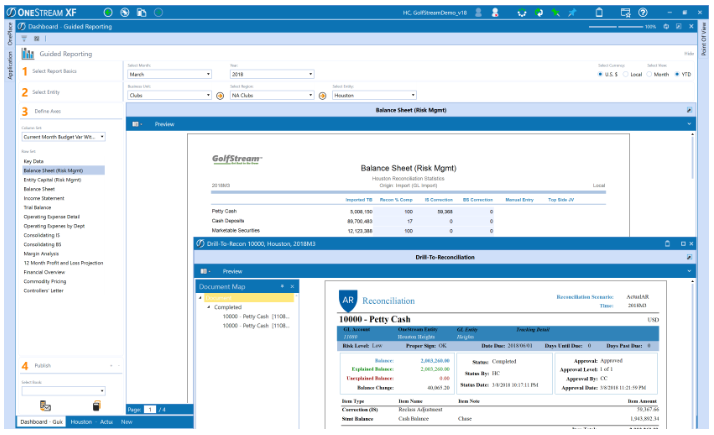 By drilling back to the ERP data, OneStream instantly retrieves all voucher or journal line items, which would previously take 2-3 days in Excel. And automated data loads are occurring nightly and three times a day during the close, without manual intervention. Using the Account Reconciliations XF MarketPlace solution, Prince has set up dashboards that provide end users with a complete overview of the reconciliations, summary financials, balance sheet, and income statement data they need. With all business-critical data in one place, OneStream has enhanced the transparency and timeliness of information – and the results have been tremendous. Thanks to OneStream, Prince has reduced the close process from 20 days in Excel, to six days in OneStream.
To learn more, read the complete Prince case study and contact OneStream today  to discover how to modernize, simplify and extend CPM processes across your organization.
Get a Live Demo of OneStream
Get a Live Demo of OneStream
Hundreds of organizations have made the leap from spreadsheets and legacy CPM applications to OneStream and never looked back. Join the revolution!
Request a Demo
Video
Oops, looks like we couldn't find what you were looking for. Please adjust your filters