Streamline Corporate Performance Management with OneStream Task Manager
Finance leaders must increasingly navigate the interconnected challenges of organizational complexity. To drive performance, they must execute critical processes with efficiency and support decision-making across the enterprise with timely access to financial and operating results.
And now, suddenly, Finance teams must also adapt and respond to the unprecedented increase in the demand for remote operation spurred by COVID-19. It's now more critical than ever for them to drive efficiency in financial processes. But success in this complex environment hinges on having sophisticated collaboration and process management capabilities.
Why? Well, the timely execution of critical finance processes –including the financial close, reporting, budgeting, planning and forecasting – demands significant cross-functional management. These efforts require accurate planning, monitoring and execution across multiple departments with input from contributors and approvals from others. To keep these endeavors on track, Finance leaders must have a sophisticated set of tools that deliver the following:
The ability to plan process steps, assign task owners and track dependencies.
Real-time visibility into process progression and insight into process bottlenecks.
Confidence in the security and integrity of the process, and enforcement of segregation of duties.
Collaboration tools to enable effective team communication and productivity.
A task management interface that is unified with the finance processes it represents.
Legacy Tools Are Only Partial Solutions
Finance teams deploy a variety of outdated tools for task management, including spreadsheets, project management applications and fragmented finance and corporate performance management (CPM) applications. While these approaches may work for smaller organizations, keeping cross-functional teams on the same page and streamlining critical finance processes becomes increasingly challenging for large, sophisticated organizations – who require a more robust set of capabilities.
For example, managing task dependencies is certainly possible in a disconnected project management system or even, to a lesser degree, in spreadsheets. But process management and monitoring with these tools is cumbersome. Accounting and finance team members must manually check the status of key tasks and transfer data between systems to update statuses. Meanwhile, users are forced to manually reference their task plans in one interface and then act upon them in another. Finance leaders are, as a result, hobbled by these tools when trying to gain the insights needed to manage crucial processes.
For Finance leaders, using these ineffective tools is essentially like trying to tighten a bolt with a pair of pliers. The job may get done, but it won't be done as well as it could be – it'll take a ton of time and significant effort.
Lead at Speed with OneStream Task Manager
OneStream's Task Manager (see Figure 1) from the XF MarketPlace gracefully addresses these needs and enables Finance leaders to organize and manage workflow processes across functions and critical finance processes.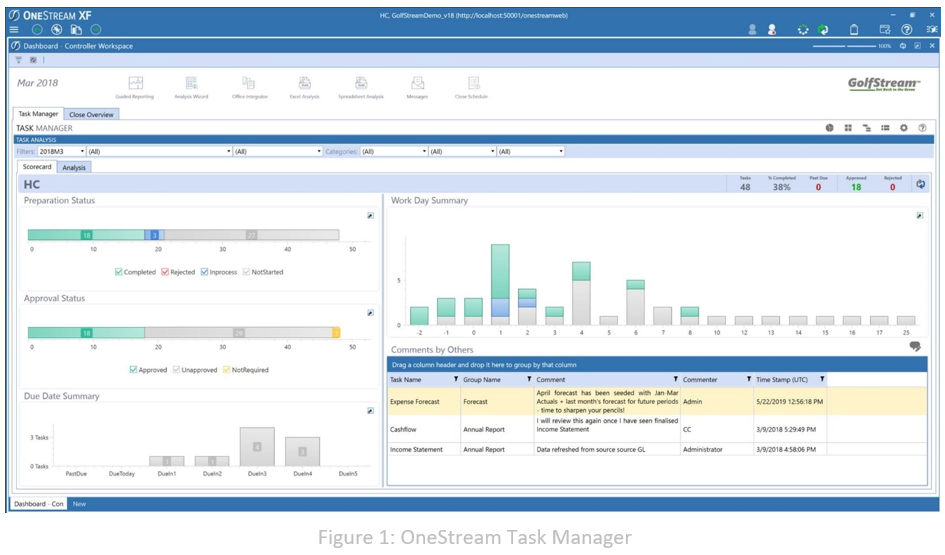 Task Manager offers a seamless interface and experience for users who are already familiar with the OneStream platform and provides direct navigation across task workflows to guide users to forms, reports and required data. This enables individuals responsible for executing tasks to see what they have to do, track when they have to do it and act on it – all within the same platform and user experience.

Ultimately, then, Task Manager empowers Finance leaders to streamline the financial close; reporting; budgeting, planning & forecasting; and other processes to drive operational and financial performance. Here are just a few of Task Manager's key capabilities: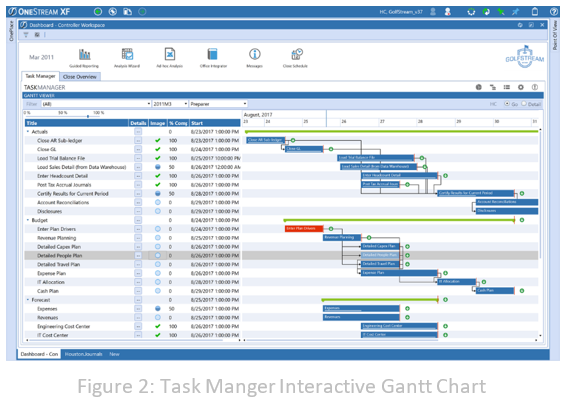 Visual Process Charts – Optimize workflows with interactive charts that not only provide managers with real-time visibility into the status of key processes, tasks, due dates and dependencies but also enable them to act on bottlenecks. Users can navigate directly from tasks to unfinished workflows, reports or dashboards. Visual Gantt charts (See Figure 2) offer views of overall task statuses and dependencies.
Integrated Messaging – Empower collaboration with task-based alerts and messages available within the solution and with email notifications. Managers can post task-based messages to users and receive alerts when tasks are overdue. Users can forward tasks when appropriate and view alerts about upcoming deadlines. Messages can be tied to specific tasks, with date and time stamps.
Role and Task Security – Drive accountability and ensure segregation of duties with tasks/task groups linked to Workflows in OneStream, visibility into tasks based on ownership of task and assigned attributes, and strict segregation of duties.
Moving Faster with Task Manager
Finance leaders at sophisticated organizations such as Grupo Traxion, West Bend Mutual Insurance and Solenis are leveraging OneStream to streamline their financial close, reporting, budgeting, planning and forecasting processes.
And with Task Manager, OneStream is providing Finance teams at such organizations with the flexibility, control and ability to collaborate effectively – letting them focus on driving performance and business value across their organizations.
Learn More
To learn more about OneStream's Task Manager, download our solution brief here and contact your OneStream account representative if you are interested in seeing a demonstration.
Get a Live Demo of OneStream
Get a Live Demo of OneStream
Hundreds of organizations have made the leap from spreadsheets and legacy CPM applications to OneStream and never looked back. Join the revolution!
Request a Demo
Oops, looks like we couldn't find what you were looking for. Please adjust your filters