OneStream is Named Customers' Choice in Cloud FP&A by Gartner Peer Insights
2019 has been a great year for OneStream, both in terms of the growth of our business as well as recognition and accolades we have received from the industry analysts.  This includes being recognized as a leader in CPM by Nucleus Research, Dresner Advisory Services, BARC, BPM Partners, and most recently by Gartner in the 2019 Magic Quadrant for Cloud Financial Close Solutions.
However, with our mission of delivering 100% customer success, we are especially proud of the positive reviews we have received from our customers on Gartner Peer Insights and other customer review platforms.  And now Gartner Peer Insights has recognized these positive reviews by naming OneStream as Customers' Choice for Cloud FP&A Solutions in November 2019.  Supporting this recognition, Gartner Peer Insights has published their "Voice of the Customer': Cloud Financial Planning and Analysis Solutions" report for November 2019.  Read on to learn more about the report and what it says about OneStream.
The Voice of the Customer is Heard
Gartner Peer Insights is a free peer review and ratings platform designed for enterprise software and services decision makers. Reviews go through a strict validation and moderation process in an effort to ensure they are authentic.  According to Gartner, in the cloud financial planning and analysis solution market, they have published 692 reviews and ratings in the 12-month period ending 31 October 2019.
In markets where there is enough data, Gartner Peer Insights recognizes the vendors that are the most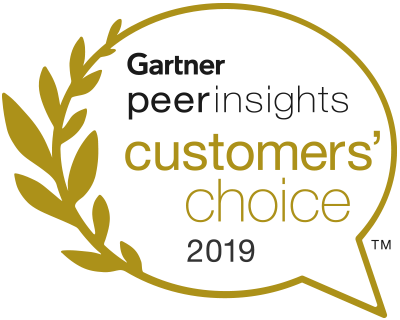 highly rated by their customers through the Customers' Choice distinction. To qualify for the Customers' Choice distinction, vendors must have a product that is aligned to the market, have their overall rating (out of 5 stars) equal or higher than the mean rating for that market, and receive 50 or more eligible published customer reviews during the one-year submission period. In addition, customer reviews must be representative of a broad mix of enterprise clients from different industries, company sizes and deployment regions.
Based on these criteria, OneStream was one of 5 vendors named Customers' Choice for Cloud FP&A Solutions in November 2019, based on 59 reviews that were received in the past 12 months.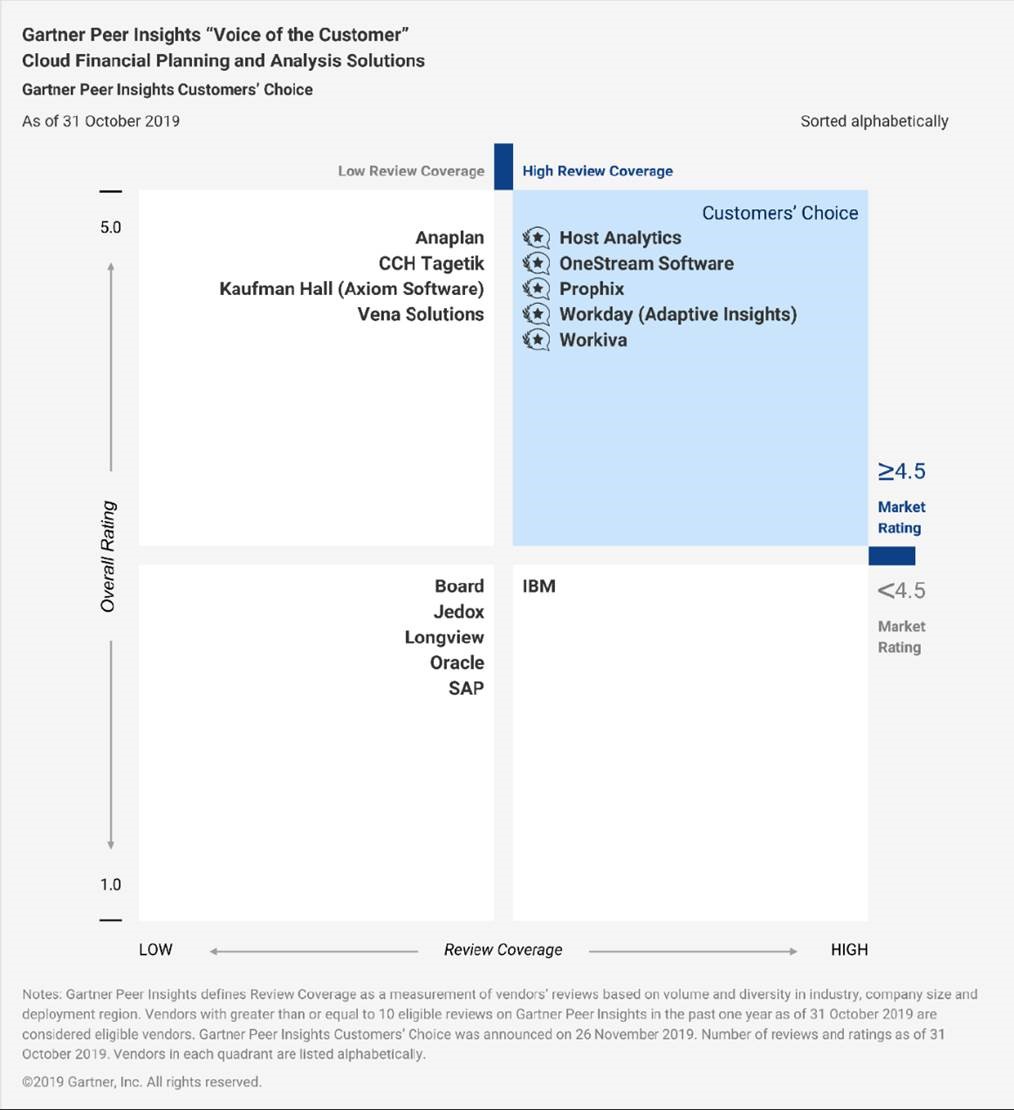 In addition to the Customers' Choice Matrix shown above, the Voice of the Customer report also includes several charts highlighting the comparative scores for all the Cloud FP&A vendors who were reviewed on Gartner Peer Insights.  If you read the report, you'll see that OneStream received the highest rating in every category included in the report.  This includes:
Overall Rating – 4.9 out of 5
Willingness to Recommend – 98%
Product Capabilities – 4.9 out of 5
Evaluating and Contracting – 4.8 out of 5
Integration and Deployment – 4.9 out of 5
Service and Support – 4.9 out of 5
We believe this Gartner Peer Insights Customers' Choice recognition validates our mission of delivering 100% customer success and providing a scalable platform that can address a broad range of planning, reporting and analysis requirements. We are proud of the value we are delivering to customers, as evidenced by the reviews and comments that were shared on Gartner Peer Insights.
Learn More
Gartner Peer Insights is a valuable source of information about software vendors, since it represents "unfiltered" customer feedback on them – meaning the analysts don't weigh into the ratings.  Gartner recommends clients use Gartner Peer Insights in conjunction with the Magic Quadrants and Critical Capabilities reports to identify the short list of vendors to be considered for a client's specific needs.  To learn more, download a complimentary copy of the report, and contact OneStream if you want to learn how we can help address your challenges in FP&A.
Get a Live Demo of OneStream
Get a Live Demo of OneStream
Hundreds of organizations have made the leap from spreadsheets and legacy CPM applications to OneStream and never looked back. Join the revolution!
Request a Demo
Oops, looks like we couldn't find what you were looking for. Please adjust your filters