Embracing the New Digital Finance Era with XP&A
For many FP&A leaders, me included, continually extending the scope of Finance is part of our personal identity. Our personal brand. Our "why." And accepting the evolution of our roles represents something much more than simply embracing digital finance transformation. Indeed, continuously extending the value of Finance is about unleashing our true potential. It's why we've transformed from operating in the traditional "scorekeeper role" into being the strategic business partners we were born to be.
And now it's no longer a choice. Which is why forward-thinking Financial Planning & Analysis (FP&A) teams are already entering into a new era known as eXtended Planning & Analysis (XP&A).
Gartner [1] defines XP&A as the extension of FP&A principles beyond the Finance department. This extension could be into any area of the organization that produces business plans, including Sales, Marketing and HR. Gartner predicts that, by 2024, 70% of all new FP&A projects will have an extended scope beyond the Finance department. What does that ultimately mean? Here's my take:
The "lines" between operational planning and financial planning no longer exist.
Going forward, Finance teams are now expected to serve as strategic business partners and help (see Figure 1) drive Merchandising plans, Sales and Marketing plans and Operations plans.
Finance must intelligently align these granular plans back together with consolidated financial plans. And do it seamlessly and at scale.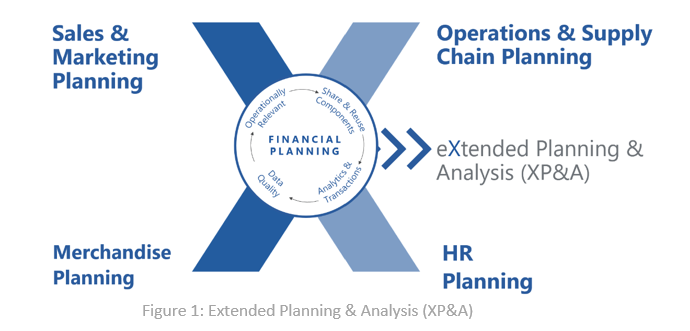 For Finance leaders evaluating corporate performance management (CPM) software to support their digital finance journey toward XP&A, there are several critical factors to consider.
Connected Business Plans Are Not Unified
First and foremost, effective XP&A platforms are not connected with fragmented cubes, modules and third-party software. Why's this important? Because effective CFOs and leaders don't make decisions in fragments. Effective organizations are unified and enable their Finance teams to work intelligently with detailed operational plans integrated and aligned with consolidated financial plans. These organizations also do so without forcing complexity on the Finance team to manage their systems and data. Here are a few critical capabilities required for unified planning and analytics:
Seamlessly connect, drill-back and drill-through (from the CPM platform] to transactional details in source systems.
Provide users with 100% traceability with audit trails for data, metadata and process changes.
Protect business users from complexity by guiding them through all data management, planning, reporting and analysis processes.
– Planning, Budgeting & Forecasting
Intelligently support diverse, integrated business plans for Sales, Operations, Merchandising and HR, and consolidated financial plans within a unified solution.
Dynamically align granular business drivers with the P&L, balance sheet and cash flow plans.
Model long-range plans and multiple scenarios at the speed of the business.
Provide users with ad-hoc reporting and analysis capabilities for maximum flexibility.
Empower Finance and line-of-business teams with intelligent production reporting and easy-to-use visualization and dashboarding, without connected modules or third-party software.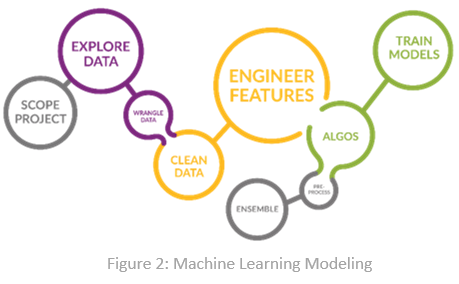 Enable Finance and business partner groups to drive performance based on daily and weekly operational & financial signals – prior to month-end.
Validate bottom-up forecasting and set targets with statistically significant predictive models.
Create a framework for Finance teams with or without data science resources to unify machine learning (ML) models (see Figure 2) directly within day-to-day planning processes and workflows.
OneStream: Unified Platform Power for XP&A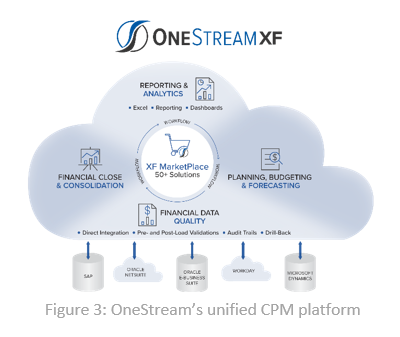 OneStream (see Figure 3) provides a market-leading intelligent Finance platform that reduces the complexity of financial operations.  OneStream unleashes the power of finance by unifying CPM processes – such as financial data quality, planning, financial close & consolidation, reporting and advanced analytics – through a single, extensible solution.  Through that solution, we empower the enterprise with financial and operational insights to support faster and more informed decision-making. All in a platform designed to continually evolve and scale with your organization.
OneStream is different from "connected planning" platforms that force complexity on Finance teams with multiple modules, cubes and third-party software programs required to support key XP&A processes. And with limited financial intelligence, connected planning tools require ongoing investment to manually move and reconcile data, manage master data and "connect" fragmented data models together.
Trust + Execution = 100% Customer Success
More than 600 organizations from across the globe and from every major industry (see Figure 4) are choosing OneStream as the foundation for digital finance transformation. As the only truly unified platform for CPM, OneStream provides the flexibility and the scale required for XP&A while intelligently addressing the full range of requirements for the Office of the CFO.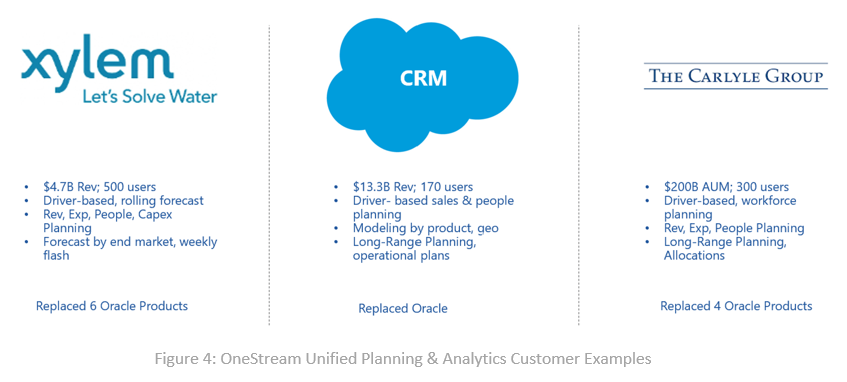 OneStream's commitment to excellence is validated through third-party analyst research where OneStream is consistently rated as the highest performing FP&A solution by Gartner Peer Insights, Dresner Advisory, BARC and others. And the honor is especially sweet given this recognition is based on surveys that come directly from our dedicated customers and users around the globe.
After all, 100% customer success is our "why."
Learn More
To learn more, click here to download our interactive e-book for Unified Business Planning, Reporting & Analytics.
– [1] Gartner, 2020 Strategic Roadmap for Cloud Financial Planning and Analysis Solutions, Robert Anderson, John Van Decker, 21 February 2020.
Get a Live Demo of OneStream
Get a Live Demo of OneStream
Hundreds of organizations have made the leap from spreadsheets and legacy CPM applications to OneStream and never looked back. Join the revolution!
Request a Demo
Oops, looks like we couldn't find what you were looking for. Please adjust your filters