Driving Performance with OneStream's Built-In Reporting and Analytics
When it comes to corporate performance management (CPM), distilled down to the simplest terms, Finance has three basic roles to fulfill in its support for the organization:
Looking backward with processes such as the financial close & consolidation to produce an accurate book of record income statement and balance sheet to represent an organization's financial position.
Looking forward with planning and forecasting to empower decision-makers with insights to support faster and more informed decision-making for the next month, quarter and beyond.
Providing right-time guidance for daily and weekly financial and operational decisions across the enterprise to drive organizational performance before month or quarter-end.
Binding all three roles together, of course, is effective financial reporting and operational analytics.  Why does this matter?  Well, for all the reporting and analysis to be impactful and well understood, it first must be communicated to stakeholders in a timely, clear and actionable format.
Supporting a Broad Set of Stakeholders
The variety of stakeholders and their differing requirements complicates the communication job for Finance teams.  Here are just a few examples of the types of information needed to support internal and external stakeholders:
Internal stakeholders ranging from cost-center managers and executives to line-of-business (LOB) leaders all look to Finance for a wide variety of reports. These reports include production reports, financial statements, dashboards and management reports.
External stakeholders (e.g., board members, banks, investors, regulatory bodies) have their own unique reporting requirements too. These include everything from 10Ks and 10Qs to financial statements and board books.
Compounding all of this of course is that each stakeholder has different needs with respect to what information is presented and how and when it's presented.  Translation?  Finance must constantly provide reports and analysis that meet the various needs of all stakeholders.
Reporting Frustrations
Many Finance teams find themselves struggling to meet stakeholder reporting needs.  Why?  Mainly it's because many Finance teams rely on a fragmented mix of reporting tools such as siloed spreadsheets, legacy corporate performance management (CPM) software and BI applications.  Doing so means they must invest an inordinate amount of time and manual effort to not only copy and paste data but also then reconcile and format reports.
Ad-hoc reporting is also frustrating for Finance and LOB managers who require accurate information to make business decisions.  Finance teams must often choose whether to provide their business partners with the training and access to yet another fragmented tool or to take the time to produce reports on an as-needed basis.
Either way, the burden is on Finance.
Reporting with a Modern, Unified Platform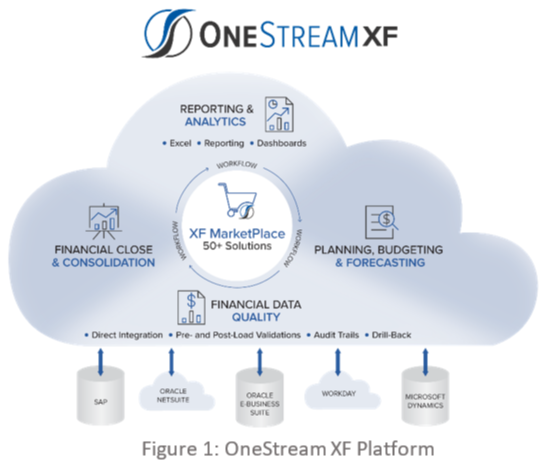 OneStream's unified, Intelligent Finance Platform (see Figure 1) with built-in reporting and analytics   eliminates the complexity of fragmented reporting tools.  OneStream empowers sophisticated organizations with built-in advanced reporting and analytic capabilities as part of a unified solution for financial consolidation, budgeting, planning, forecasting, reporting, analytics and financial data quality.

By intelligently aligning detailed operational and financial data, OneStream's flexible financial reporting and analysis capabilities eliminate the need for Finance teams to waste time manually creating reports.  In other words, OneStream unleashes them to focus on providing insights and analysis to better support key decisions.

OneStream's built-in Reporting and Analytics includes the following capabilities to enable Finance and business leaders:
Guided Reporting: Empowers both Finance and business users to create and manage their own powerful analytic reports with the ability to drill down on any dimension in graphs, charts, reports and grids to get answers quickly.  Includes a built-in report library of pre-formatted row or column sets and can instantly export reports to Excel®, PDF or any other standard format.
Excel Integration: Provides users with the familiar Excel® interface for ad-hoc business analysis with access to drag-and-drop and pivot capabilities.
Production Reporting: Offers intuitive production report writing for detailed and pixel-perfect reports.  Includes 50 pre-built web reports.
Microsoft Office Blend: Enables users to combine Microsoft Word®, PowerPoint® and Excel® content with OneStream XF reports, charts and data content to deliver rich, visually stunning reports.

Interactive Dashboards

: Delivers self-service capabilities for financial and operational data insights to executives, managers and business users.  These dashboards (see Figure 2) combine tables, charts, graphs and other visualizations to provide unparalleled, immediate access to current financial and operational data – enabling proactive decisions that can impact performance.
Analytic Blend: Enables Finance teams to leverage financial signaling (see Figure 3) to continually drive monthly, weekly or even daily performance by combining the financial intelligence that's core for their monthly financial processes with highly granular and high-velocity financial, operational and detailed transactional data – all in one platform.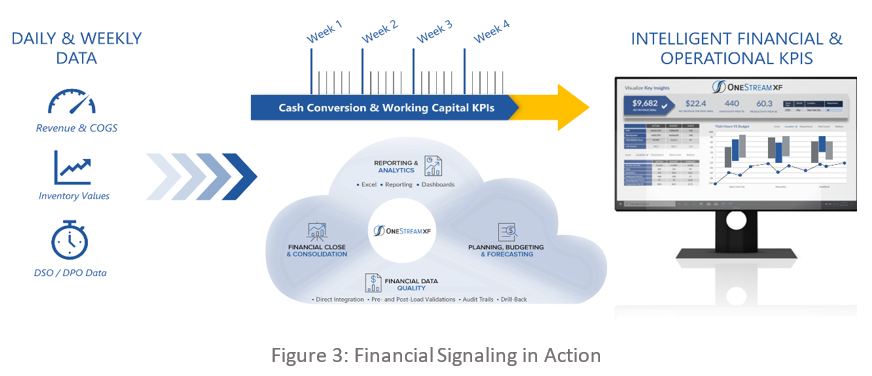 To realize their full potential as strategic business partners, Finance leaders of sophisticated organizations require reporting capabilities that are unified with their CPM solutions but address the variety of other stakeholder reporting needs.  OneStream achieves all of that to empower Finance to lead at speed with a single lens across the organization while providing a single version of the truth for financial, statutory and management reporting.
Empowering Finance to Meet Stakeholder Reporting Needs
OneStream simplifies financial and operational reporting by allowing users to focus on the quality and content of their data rather than constantly working through the mechanics of building reports.  Here are just a few additional benefits OneStream offers for financial reporting and analysis:
Unifies Financial & Operational Data: Brings detailed operational insights to Finance and non-Finance users with Analytic Blend.  Intelligently aligns data from multiple sources (e.g., CRM, HCM or data warehouses) with financial data to produce the weekly and daily signals that drive performance.
Streamlines Reporting & Increases Controls: Eliminates reliance on Excel®, rogue databases and manual processes for data gathering, reconciliation and creating reports.  Creates reports with 100% accuracy through a unified platform for analytics and reporting.
Automates Report Creation & Distribution: Standardizes reports for varying stakeholder groups with over 50 predefined report types.  Automates report creation and distribution with Parcel Service from the XF Marketplace.
Creates Self-Service Visualizations: Enables LOB and functional business partners to tell the story with easy-to-use, self-service visualizations.  Extends insights further by blending operational and financial data in a unified dashboard.
Learn More
To learn more, view the OneStream Stakeholder Reporting Overview video or download our interactive ebook here.
Get a Live Demo of OneStream
Get a Live Demo of OneStream
Hundreds of organizations have made the leap from spreadsheets and legacy CPM applications to OneStream and never looked back. Join the revolution!
Request a Demo
Video
Oops, looks like we couldn't find what you were looking for. Please adjust your filters